Ish. Boleh la pulak gune AIM ni. Tapi leh gune mase pagi r. Pelikkan? Aku pun, lagi la pelik. Tah ape kene tah ngan aku nye AIM ni. Sekejap boleh. Sekejap tak. Kalau nak download balik, teruk r coz nak download tu bukan nye sekejap. Aku gune dial-up. Kalau nak download tu, urgh…lama seh… Mau dekat sejam dua. Or maybe lebih lama lagi.
Hmm…ada lagi satu problem. Skang ni server hosting aku ni asyik ade problem jek. Asyik2 tak leh bukak site aku nih. "No response from server." Nak connect FTP pun payah. Ape la nasib… 🙁

Btw hari ni aku ade download Opera. Saje je nak try coz member2 cakap Opera ni laju dari browser2 yang ade skang nih. Tapi…Opera ni tak support certain2 script r. Tu yang leceh tu. Tapi kelebihan die satu je la yang aku rase. Iaitu laju… 😀
Tapi bile aku view site aku dalam Opera ni and aku compare ngan Firefox. Banyak perbezan r. Kalau view dalam Opera, aku tengok site aku cam weird je dari biase. Pelik. Huruf die besar2 and ada jarak. Tapi kalau view dalam Firefox, tak plak jadi macam nih.
Cube click kat gambar bawah nih:
Firefox

Opera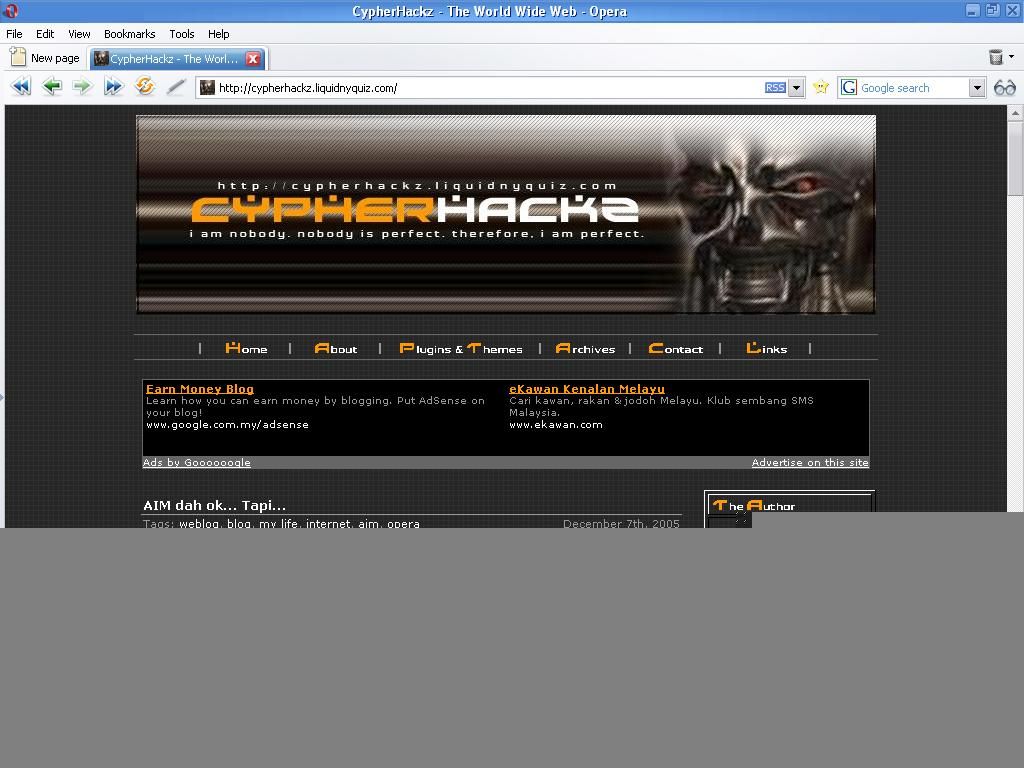 Korangnye pun sama ke seperti mana aku punye?